Please contact Linda Belleau at bronte@oryxestollers.com if you have any questions or if you wish to sponsor a trophy.
THANK YOU VERY MUCH FOR SUPPORTING OUR CLUB :)
Click on the table below to see the full list of the trophies
Tri-llium Award
Come out to play!  An award, and fun prize, will be given to everyone who qualifies in at least three events at the Nova Scotia Duck Tolling Retriever National Specialty in 2017.  These can be any event which is offered at our Specialty – obedience, rally, field, agility, and/or conformation… so have fun and mix and match.  Register at HQ, sites 162 and 163, at the beginning of the Specialty and provide updates throughout the weekend.  White boards will be displayed for both this tri-athlete event, as well as the Fair Dinkum award.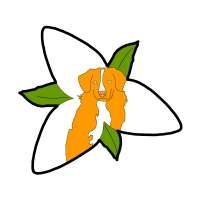 --------------------------------------------------------------------------------------------------------------------
Dragonluck Kennels and the NSDTRC of Canada National Specialty committee would like to present a one-time "Memorial" in recognition of the Rileys (Jacquie and Colin) for their dedication and support of the breed.  They were one of the first Toller breeders in this area, and as well, were committed owner / handlers in events they participated in - Staunch supporters of the versatility of he breed.  They loved seeing Tollers doing it all, and especially in the show ring with owner / handlers! 
QUALIFICATION - This Memorial will be presented to the OWNER / HANDLER TEAM who receives the highest ribbon in the conformation ring e.g., BIS, BOS, AOM, etc.  The individual and Toller  MUST be the owner of the dog and must show them from start to finish in the ring.  
Please submit your eligibility by visiting HQ, sites 162 and 163, prior to the show.  The Memorial will be presented at the Banquet on Sunday evening By their Daughter Lisa.  Winners will be notified in advance.  They will be invited to attend the presentation or they can ask someone to accept it on their behalf.