Join the Nova Scotia Duck Tolling Retriever Club of Canada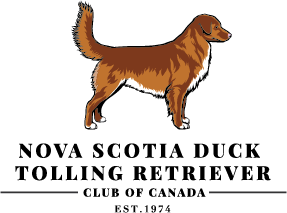 There are dog people and then there are Toller people. Share your love of the Nova Scotia Duck Tolling Retriever while receiving access to quality information, valuable resources, and great people! Join us today!
We offer multiple methods to join or renew your membership: Online Application Form
The form is also available in PDF or Word Doc formats which can be sent to us for application/renewals.
If you are unable to use any of these options, please contact the Membership Coordinator to arrange for your membership. We accept many methods of payment, including e-transfer.
Membership is available to anyone, anywhere.
The term of membership is one year from January 1 to December 31. However, if you join after October 15, you will be considered a member for the following complete year.
Please Note: To be included in the annual Membership Roster, memberships MUST be received by March 1st.
Mail membership form and payment to:
Colin Davies
Membership and Breeder Directory Coordinator
PO Box 204
Almonte, ON  K0A 1A0
Contact Membership & Breeder Directory
Please note that all Fees are payable in Canadian funds. The Nova Scotia Duck Tolling Retriever Club of Canada accepts VISA and Mastercard for Membership Fees.
Canada – Individual: $25
Canada – Family: $40
Junior Handler with household: $10
Junior Handler stand alone: $20
U.S. – Individual: $30
Overseas – Individual: $35
Breeder Directory: $20
The NSDTR Club of Canada offers a Breeder Sponsored Membership.
The option is for members in good standing of the Nova Scotia Duck Tolling Retriever Club of Canada who wish to encourage involvement in the NSDTR Club of Canada by purchasing a club membership for the new owners of puppies from an entire litter.
Specifics:
A litter consists of three or more puppies.
A charge of only $5 per puppy will be the special one-time membership rate.
Puppies must be under four months of age at the time of application.
This is a one time offer; after the initial year of membership the new members must renew at the regular membership renewal rate.
Applicable to new members only.
Memberships received after October 15th will be applied to the following year.
All applications must be included in one envelope and be paid for in one payment.
All applications are to be sent to the Membership Director.
If you have questions about membership or about how to pay for your membership, contact the Membership & Breeder Directory.
Club members receive access to important information, exclusive awards, scholarships, and more!
NSDTRC Members receive exclusive access to the Club Newsletter, Toller Talk that covers everything that's happening in the world of Tollers and the NSDTRCC.
The NSDTR Club of Canada recognizes listed as members in good standing but neither endorses nor guarantees their services. Download the Breeder Directory as a PDF.
Members of the Nova Scotia Duck Tolling Retriever Club of Canada are eligible for many exclusive awards and scholarships.